SEVEN SYSTEM
Pingle Group introduced the ERP management system in 2001, through the information system to fully organize and effectively transmit information, so that the company's resources in supply, storage, production, sales, finances, materials and other aspects can be reasonably configured and used , so as to realize the improvement of business efficiency
I.Supply system
1.Supply system of product parts and raw materials
01

Procurement plan Preparation
02
Supplier Selection
03

Price analysis
04

Procurement Implementation
05

Incoming Inspection
06

Materials storage
2.Supplier Management

Collect supplier information

Preliminary investigation

on-the-spot investigation

Sample and Small batch verification

Listed in qualified suppliers

Quality and delivery monitoring

Review at the end of the year
Motor
Motor

SIEMENS-BEIDE

ABB

WNM
Bearing
Bearing

SKF

FAG

TR

NSK

C&U

HRB
Gear Motor
Gear Motor

NORD

SEW

JIE

STARSHINE DRIVE
Electrical components
Electrical components

SIEMENTS

SMC

DELIXI

SCHNEIDER ELECTRIC
Raw Material
Raw Material

BAOSTEEL

WISCO
II Production process control system
01

Release work order
02

Confirmation of production conditions
03

Production preparation
04

First Article Inspection
05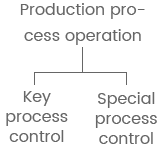 06

Production process monitoring and measurement
S/N
Main Equipment
Key Parameter
Production Process
Control Method
1


Roller Mill
camber of smooth roll
Machine grinding
detected by the camber convexity meter
2
Parameters of tooth roller drawing
Machine fluting
Testing with special measuring tools
3
Body shape and size
Welding
Adopting tooling welding
4
Installation accuracy of mill
Assemble
No load trial run to detect noise, temperature rise and abnormal sound, etc.
5


Plansifter
Tension of sieve cloth
sieve stretching
Use tension detector to detect.
6
Size and shape of sieve body
Welding
Adopting tooling welding
7


Purifier
Tension of sieve cloth
sieve stretching
Use tension detector to detect.
8
Size and shape of sieve body
Welding
Adopting tooling welding
9
Installation accuracy
Assemble
No load trial run to detect noise, temperature rise and abnormal sound, etc.
10


Vibration Separator
Installation angle of motor
Assemble
Assemble with template
11
Screen sealing performance
Assemble
Experimental detection with load
12
Amplitude
Assembly adjustment
No-load running test
13
Screen inclination
Assemble
Assemble with template
14


Destoner
Installation angle of motor
Assemble
Assemble with template
15
Amplitude
Assembly adjustment
No-load running test
16


Wheat Scourer
Rotor running smoothly
Assemble
No-load running test
17
Bearing temperature rise
Assemble
No-load running test
18


Packing Machine
Measurement accuracy
Assemble
Experimental detection with load
19
Accurate movement
Assemble
No-load running test
20


Impulse Filter
Pressure bearing of air pocket
Welding
Pressure detection
21


Degerminator
Bearing temperature rise
Assemble
No-load running test
22


Hammer Mill
Rotor running smoothly
Assemble
Dynamic balance
23
Bearing temperature rise
Assemble
No-load running test
III Packing System
1.Packing Material: Self sealing bag, Bubble plastic film, Woven bag, Plywood box
2.Packing Mark And Protection
3.Packaged parts
IV. QUALITY CONTROL SYSTEM
Relying on advanced detection equipment and perfect detection means, all aspects of production are always under control.

PRE-SHIPMENT INSPECTION

V Technological Design SYSTEM


VI Storage System
In order to ensure the hygiene and safety, the company implements strict handling and storage control procedures.
The production warehouse is responsible for the warehousing, delivery, storage and protection of raw materials.
S&L Dept. is responsible for the delivery, warehousing, storage, protection and loading and unloading of finished goods.
The Quality Inspection Dept. is responsible for the inspection of packaging of raw materials, the performance test and the loading.
The production workshop is responsible for the safety protection and management of the materials/semi-finished products/finished products in order to ensure that all materials are effectively protected.
2.Supplier Management

Incoming acceptance

Computer posting and storage

Stacking and storage

Regular inventory

Warehouse safety and hygiene

Product Delivery of product

Out of stock registration
VII After sales service system
01

Establishing customer files
02

Installation Commissioning Training
03

Acceptance and handover
04

Feedback into file
05

Regular after sales service
06

Overseas service station establishment