Take Care Of Every Grain
Wheat is one of the most important grains, with an annual global production of about 740 million tons. To produce high-quality flour without wasting food, understanding the milling process, not just the milling machine, is key.
Good milling is all about the process - how to reliably separate impurities from the grain and then separate out the different parts that make up the grain. This helps to increase the yield and quality of the product.
With our Wheat Milling Machine you can have high quality wheat flour with consistent quality.



Applications of Wheat Flour Milling Machine
The series Wheat Flour Milling Machine contains square plansifter, new pneumatic roller mill and other flour milling equipment. With the novel design, advanced equipment and scientific production flow, this flour milling plant is commonly used to manufacture tailored flour and graded flour. In addition, co-production is also allowed, and the available model includes 100TPD, 120TPD, 140TPD, 160TPD, 200TPD, 220TPD, 250TPD and 300TPD.
The complete set of multi-story steel structure flour milling plant is an innovation by Pingle engineers and technicians, which is the first in China, can fully meet the production needs with higher economic benefits. Pingle plant and equipment sold as a whole is an important characteristic of this series of products.This design method relieves customers from the pressure of plant construction, saves customers time and capital investment to the greatest extent, is the customer really realize the investment less effective quick ideal investment way.
Pingle's large scale flour mill machines are sold well in many countries such as Zamibia, India, Uganda, Kenya, Nigeria. Come and contact us to start your flour mill project!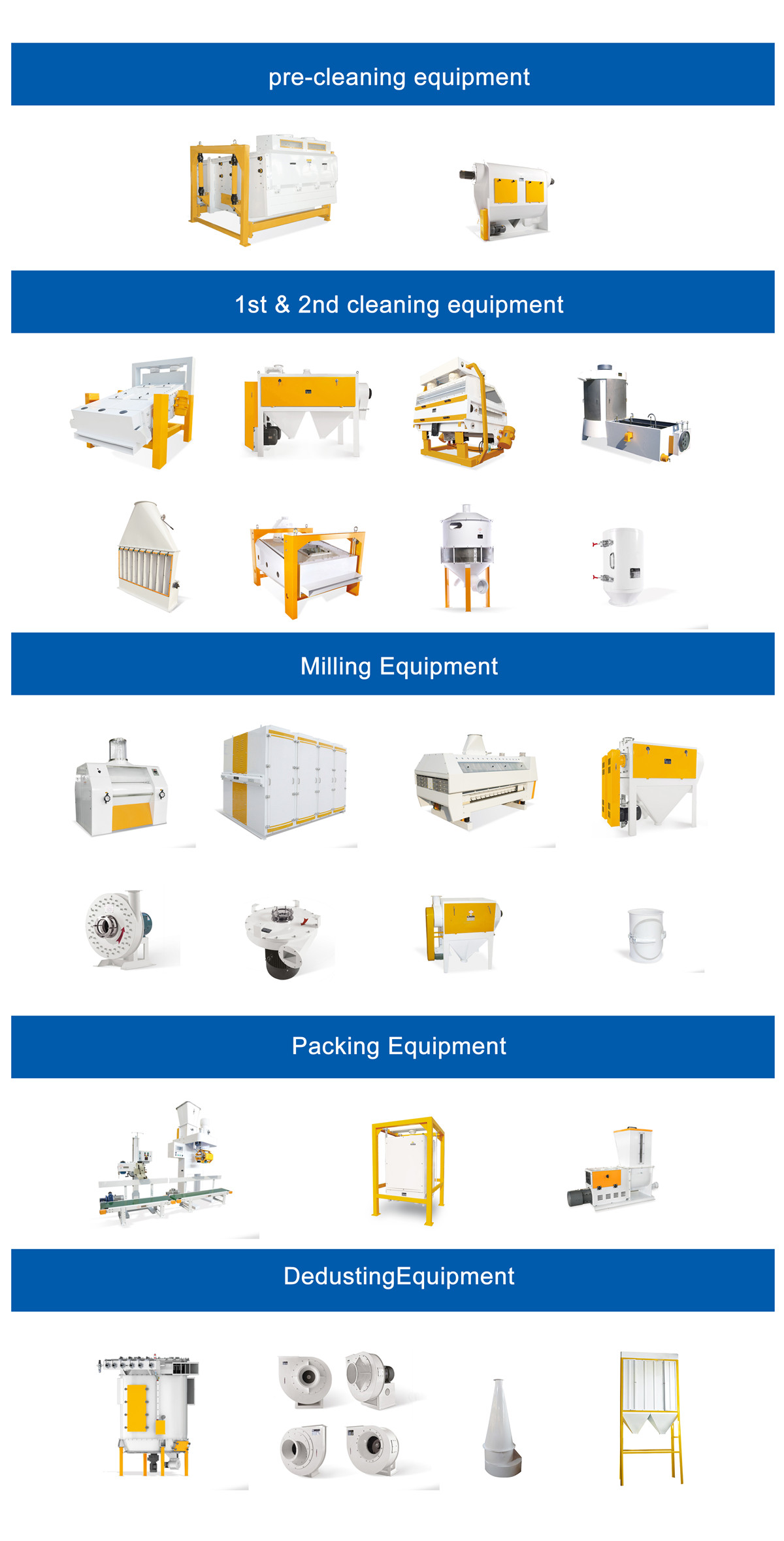 The process of Wheat Flour milling (from wheat to milled into wheat flour) usually consist of the following:
1. wheat storage (silos, or warehouse)
2. cleaning system (sifter, destoner, separator, magnet, scourer, etc)
3. dampening (dampener, conditioning silos, etc)
4. milling system (roller mill, plansifter, purifier, impact detacher, etc.)
5. Flour pressure and blending system (if need)
6. flour packing and stacking
Features of Wheat Flour Milling Machine
1. The building cost takes up a sharply lowered proportion in the total investment, and this design helps investors out from heavy building tasks. Meanwhile, the steel structure lightens the building's weight and cuts down the investment required for ground treatment as well as infrastructure.
2. Our product combines factory building and production equipment together. The steel-structure building is rapidly constructed, and the machines are installed in a convenient way. These two steps are conducted at the same time. So, both time and money are saved, making it possible to gain economic returns in a short time.
3. The building is reasonably designed, and the interior part makes use of section steel while the outer wall adopts color steel plate to provide a tidy and elegant appearance. On the other hand, the original wheat and cleaned wheat are stored separately in rectangle-shaped steel bins whose exterior surface could be covered with heat preservation and insulation layer.
4. Our multi-story steel structure flour milling plant allows simple disassembly and transportation. So, it can be moved to another place as a whole to further bring economic benefit.
The Processing of Wheat Flour Milling Machine