At PINGLE we specialize in providing a wide range of services for flour production plants. From custom project evaluations to quality inspection services, factory design services and installation training services, we have you covered
Flour milling, also recognized as flour grinding or flour processing, is a fundamental process that transforms grains into versatile flour products. A comprehensive grain flour milling plant seamlessly integrates grain pretreatment, encompassing cleaning and dehulling, along with the flour milling procedure. This innovative processing plant is meticulously designed to yield diverse grades of flour to cater to an array of applications.
This series has been widely promoted in Ethiopia. Customers can choose small-capacity flour processing equipment to enter the industry. After accumulating certain experience, they can gradually expand production and increase investment. Thanks to the outstanding features, more than 200 sets of this flour milling plant have been sold around the world.
This product is applied to fabricate graded flour that is universally used in bakery and biscuit factories. In Ethiopia, for example, AWEL TAHA has already purchased 8 sets up to now, and the total flour output has reached up to 500 tons.
PARAMETER DETAIL
| | | | | |
| --- | --- | --- | --- | --- |
| Model | Power (kW) | Power consumption per ton flour(kw/h) | Capacity(ton wheat of 24hrs) | Dimension(LxWxHm) |
| 60TPD | | | 60 | 40x10x12 |
| 100TPD | 340 | 70-75 | 100 | 35x10x12.5 |
| 120TPD | 420 | 70-75 | 120 | 43x10x12.5 |
| 140TPD | 530 | 68-73 | 140 | 47x10x12.5 |
| 160TPD | 597 | 68-73 | 160 | 49x10x12.5 |
| 200TPD | 704 | 65-72 | 200 | 54x12x13.5 |
| 220TPD | 820 | 65-72 | 220 | 57x12x13.5 |
PINGLE Projects of Compact Structure Wheat Flour Milling Plant
Ethiopia---36TPD wheat flour milling machine
Ethiopia - 112TPD steel structure wheat milling plant
Ethiopia - 120TPD steel structure wheat milling plant
India - Automatic Packing Machine in Wheat Milling Plant(Wheat mill)
Pakistan - 200TPD Wheat Flour Mill
Bangladesh - 200TPD Joy Flour Mill Factory
Uganda 160TPD Wheat Milling Plant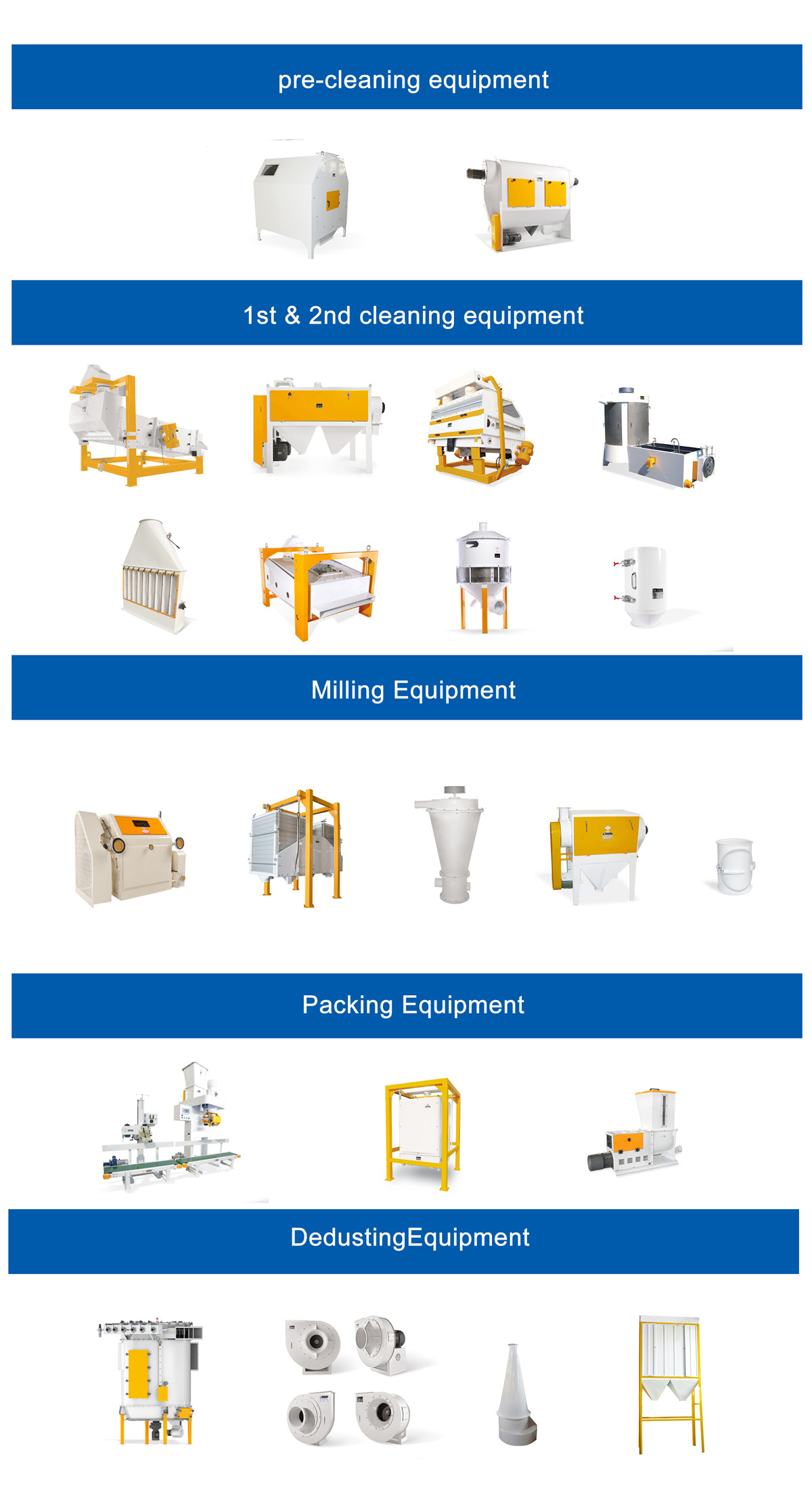 At the heart of a proficient flour milling plant lies a range of cutting-edge machinery, including prime flour grinding equipment, precision screening tools, and a crucial flour purifier.
Leading the charge in the grinding realm is the roller flour mill, an industry-standard grinding equipment renowned for its efficiency and consistency. The supplementary grinding machinery comprises the percussion grinder and flour detacher, enhancing the overall milling process.
For meticulous screening and classification, the square plansifter takes center stage, meticulously sieving the flour to desired levels. Collaborating seamlessly are the rotary sieve, wheat bran finishers, and bran brushing machine, serving as auxiliary screen equipment to refine the quality further.
Crucial to the process, the purifier takes on the role of purifying the flour, assuring exceptional hygiene and fineness. This indispensable machinery plays a pivotal part in delivering flour products of the highest quality.
In the ever-evolving landscape of flour processing, our flour milling machinery stands as a testament to precision engineering and innovation. With a commitment to excellence, we ensure that each component plays an integral role in producing flour that meets the diverse demands of our valued South African clientele.