Corn/wheat flour machinery, like other machinery and equipment, has a certain service life. In the case of flour mills, the management of corn/wheat flour mills is a matter of expertise. In daily management, operators should actively learn and master the properties and performance of the relevant Wheat / Maize Flour Milling Plant. They should also be aware of the operating procedures and maintenance of the corn/wheat mill. Ensure the effective operation of the mill equipment.
Specifically, in order to prolong the service life of the corn/wheat flour mill, the type of machine must be strictly selected, for example, the main equipment of the flour mill such as: pneumatic roller mill, high flat screen, purifier, etc. Before buying a flour mill, you need to make a field visit to the performance of the corn/wheat machine, especially to ask the manufacturer's technical staff in detail about the actual production performance and working condition of the machine.
Secondly, the use of corn / wheat milling machines must be strictly enforced "three custom", that is, fixed people, fixed corn / wheat machine, fixed post responsible. Only people and the mill is relatively fixed, the use and maintenance of the mill equipment to the individual, in order to effectively improve the operator's responsibility and technical level, to reduce accidents.
Flour mill production is a system project. In addition to the main equipment, there are many auxiliary equipments. Cleaning machines such as: drum type coarse filter, plane rotary sieve, vibrating screen, de-stoner, washing machines, magnetic separators, conditioning machines, screw conveyors, etc. Grinding section host such as pneumatic roller mill.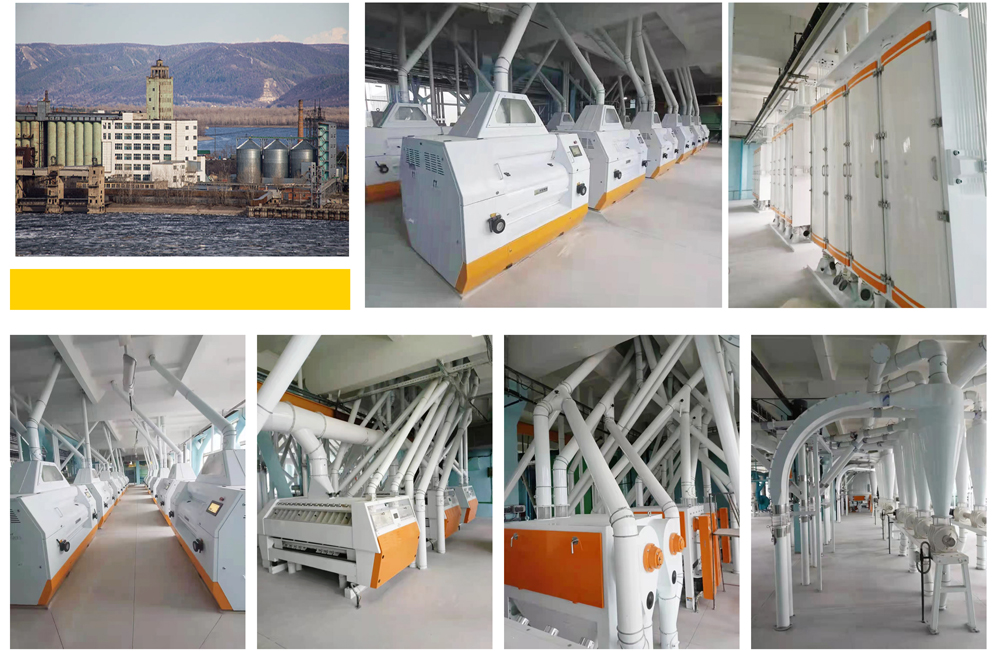 Maintenance of wheat milling machine, high sieves, purifiers, mixers must be carried out in the following manner.
1. The corn/wheat mill must not be operated in sick condition, over speed, over load, over pressure or wet condition. It should be reminded here that screening equipment (e.g. high screen or double bin screen) must be stopped before restarting.
2. All parts involving equipment bearings must be checked regularly and lubricated strictly according to the regulations.
3. All equipment should be started in reverse order, i.e. from back to front, after starting. When shutting down, it should be started in order, i.e. from front to back. This is a feature of the flour mill production line equipment.
4. Corn/wheat entering the mill must be maintained at a smooth and steady speed. Sudden overload or violent impact is not allowed.
5. All major parts of the electrical appliances should be checked in time to avoid the danger of downtime.
Normal maintenance and careful operation will ensure trouble-free operation of the corn/wheat mill and properly extend the service life of the machine.